In this article, we want to talk about our skull clothing brand, and how an independent skull clothing brand owned and operated by the artist himself is getting noticed in the fashion market. TOKEBI is a skull clothing brand created by Tokebi, who's famous for his kitsch aesthetic and his neon skulls. Tokebi skulls have a unique kind of attractiveness and meaning behind them, not celebrating death itself, but celebrating our moment in life, remembering that our time here is limited and we have to make the best of it. This is what the Memento Mori is, an artistic movement acting as a reminder of the inevitability of death.
At the time, the concept had its roots in the philosophers of classical antiquity and Christianity and appeared in funerary art and architecture from the medieval period onwards, using skull art such as bones and skull jewelry. In today's view, skull art is a representation of wisdom, strength, bravery, and quirky fashion. We can see skulls with bright colors and also dark skulls inspired by the gothic culture. Regardless of your fashion sense, having a skull t-shirt is a must.
Everything online is a segment, a niche, a group of people with selected hobbies, beliefs, and points of view that joins them in a community. We can see people following influencers, brands, projects, and so on, purchasing their products and enjoying them. This happens when we find value in something or someone, usually related to our core beliefs, daily lifestyle, and fashion. TOKEBI skull clothing brand is a mixture of cultural elements that have marked the lifestyle of TOKEBI the artist himself and his entourage. Let's talk about them in detail: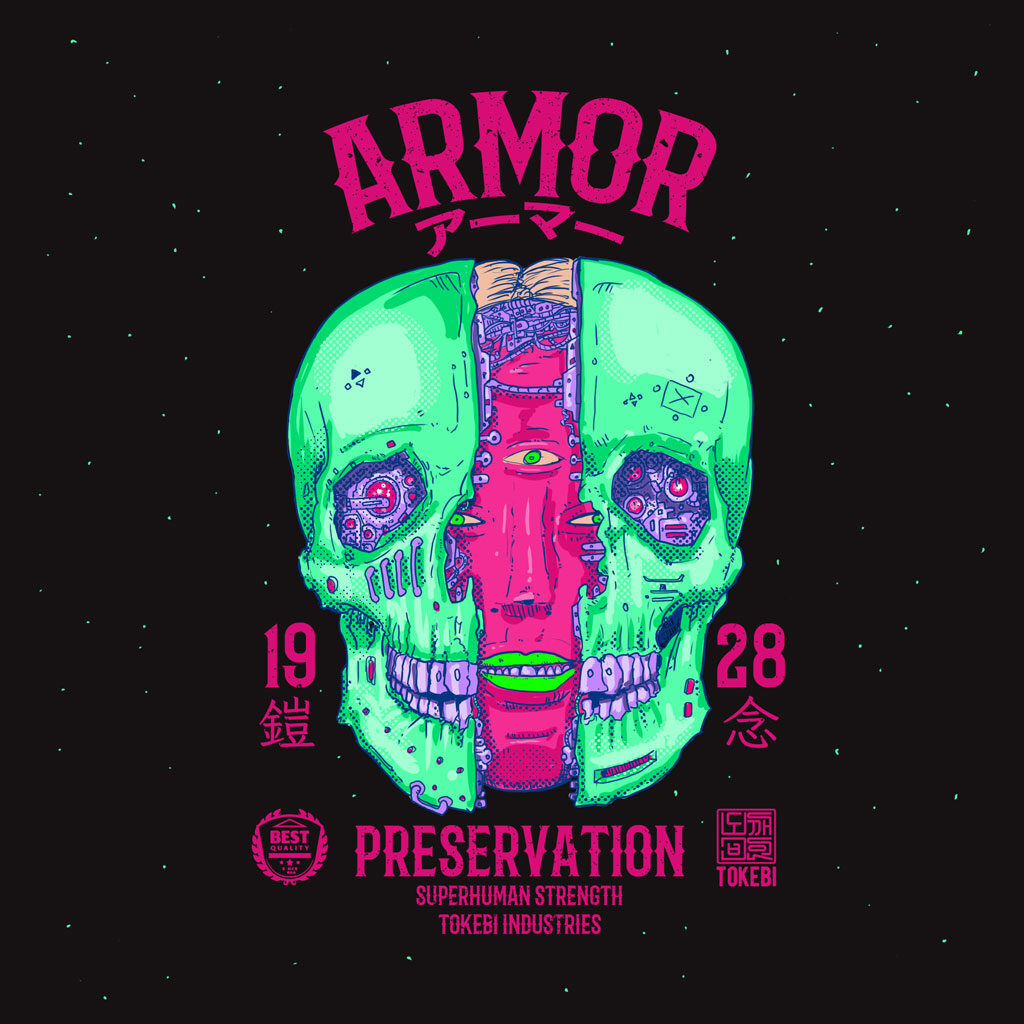 Skulls are seen in our clothing brand as a reminder of our existence, and the courage we need to keep going in this very competitive world. This idea goes together with our next core principle, Science Fiction. Cyberpunk, a science fiction genre derivative, teaches us to understand that the next evolution of mankind is technology. Maybe we won't have a cybernetic dystopia, but we will use technology in a way we haven't just yet. This includes not only modifying ourselves to live more but also to do several new advanced tasks, and some of those tasks have to be done in space, and with this, we include our third core principle, the cosmos.
In TOKEBI, we strongly believe we aren't alone in space, and we're this close to finding not only one, but thousands of planets with life, maybe not as advanced as us, but something that will change our lives. Too bad we won't be alive to see it.
Now, if you combine all those core principles and mix them with our fourth principle, retro or vintage style, we find our TOKEBI formula, a race of mystical psychedelic skulls, traveling through space and time in adventures beyond our mortal dreams. Be part of this amazing skull adventure with each design we create at the TOKEBI factory. Each of our skull t-shirts and apparel is a still, a scene representing an adventure of these skulls with cyberpunk aesthetics, in a parallel universe where magic and real life is something normal.
Our skull t-shirts have words of courage, motivational words mixed with mysticism. From anime (Cowboy Bebop, Battle Angel), film (Matrix, Blade Runner, Prometheus), locations (Japan, Korea), to cultures and folklore, TOKEBI is a skull clothing brand for the rockstar, the metalhead, the goth, the emo, the rebel, the otaku, the geek. Because that's TOKEBI the artist himself and is embodied in each of the pieces we create for you.